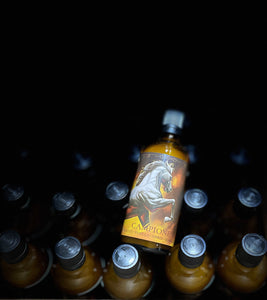 Bartigan & Stark
Campione Alcohol-free Aftershave Splash
Regular price
Sale price
$26.00
---
Meet Campione!
An Italian-inspired Oriental aromatic composition.
Campione has a mid-level scent intensity with a fairly linear progression from top to bottom notes. This fragrance is currently available in our fine shaving soap and alcohol-free aftershave splash, and is suitable for any day and any weather, and especially appropriate for cold climate and special occasions.
The inspiration
The summer of 2019 was the first time I experienced Tabacco Toscano by Santa Maria Novella. My daughter and son-in-law returned from their Italian honeymoon bearing gifts from that historic monastery-turned-perfume-house. Tabacco Toscano is a light, refined tobacco and bergamot fragrance - easy to wear for most occasions. I knew in an instant that I needed to create something similar.
Utilizing essential oils, absolutes, resins, and the same high quality aroma materials used by large perfume houses world-wide, we created a fragrance that is similar to Tabacco Toscano in at least one way: it is a light and balanced woody oriental fragrance and is wearable all year-round, particularly in colder weather. Campione is not a duplication of Tabacco Toscano, but it was definitely inspired by it.
The notes
We set out to create a creamier tobacco scent with supporting notes of wood, dried fruit, and citrus.
Top: bergamot, clementine, dried fruit
Middle: tobacco, frankincense, jasmine, coconut, almond, hay
Base: amber, vanilla, musk, cognac, sandalwood
The collaboration
The image on the label was created by ultra-talented Canadian artist Trevor Jameus (@roveink). Please check out his other works, and tell him we sent you.
The label is a union of inspiration from no fewer than four sources: Ferrari - the iconic Italian car manufacturer; the "Rumors of War" sculpture by American artist Kehinde Wiley; the magnificent Canadian horse breed; and my daughter's passion for all things equine.
The post-shave experience

Campione is packed with skin food to soothe and hydrate your skin, jump-start the restorative healing process between shaves, and make you smell great. All this with the astringent properties of witch hazel, which is less stinging and less drying than alcohol.
The ingredients
Hamamelis Virginiana (Witch Hazel), Distilled water, Aloe Barbadensis Leaf Juice, Sandalwood Floral Water, Cocamidopropyl Betaine, Polysorbate, Meadowfoam Oil, Glycerin, Fragrance, Tocopherol (Vitamin E), Allantoin, Maris Sal (Sea Salt), Grapefruit Seed Extract, Phenoxyethenol
3.5 oz / 100 mL
Campione.
Handcrafted. Small-batch.
Available April 17.
Grazie!